Here is a list of resources I recommend.
What You May Not Know…
What you may not know is that all of these resources I either personally use or have thoroughly checked out — in other words, they have been scrutinized by me as being the very best on the market.
With that said, also realize that nothing is perfect including these recommendations just know that they are at a minimum — dang good!
---
 Domains/ Hosting
1 and 1 – I have used this hosting company from the very beginning of my business and I really like them. Pro: They have FREE 24/7/365 telephone technical support that is pretty good. Con: They don't have c-panel. For those that don't know, c-panel is an interface that makes many things (like WordPress blog installation) one-click installations.
Daniel Tip: I suggest that you buy your domains at the same place where you host. It just makes things easier. You don't have to "point" your URL's or do any additionally set up because the domain is already in your hosting account.
You can check on available domains using 1 and 1 hosting right here:
---
Hostgator is also a VERY good solution. They too have excellent support but what I really like best about them is the one-click blog installation through c-panel. Of course, you can buy your domain from Hostgator too.
---
 Membership Site WP Plugins
As you should already know the SuperSimple Membership method I taught you in the training is basic, beginner level. As your membership site starts to prosper, I would recommend upgrading to more functionality and protection with a paid membership WordPress plugin. These solutions are much more elegant and powerful but the best news is you can simply plugin them in to any membership site running off of a WordPress platform. Below you'll find a couple of my favorite solutions.
Wishlist I have been using this plugin for years. In fact, this very site is being run on Wishlist as are all of my "Real Fast" membership sites. As I write this the single site license is $97 and the multi-site license is $297. In my humble opinion, it is a much better idea to grab the multi-site license if there is even a remote possibility that you will be doing more than one membership site in the future (trust me, you will). Here are some of the features Included…
Unlimited Membership Levels – Create "Silver", "Gold", "Platinum", or any other "levels" you want! Charge more for higher levels of access – all within the same blog.
Integrates With Your WordPress Site – Whether you're building a new site or integrating with an existing WordPress site, installing WishList Member is a breeze. Just unzip the file, upload to your plugins folder and activate!
Flexible Membership Options – Create Free, Trial, or Paid membership levels — or any combination of the three.
Easy Member Management – View your members, their registration status, membership level, and much more. Easily upgrade members, move them to different levels, pause their membership, or delete them entirely.
Sequential Content Delivery – Graduate your members from one level to the next. For example, after 30 days, you can automatically upgrade members from a Free Trial to the "Silver" level.
Control Viewed Content – Just click the "Hide" button to protect exclusive content for members of a particular level. Create "modular" memberships and hide content from other levels.
Shopping Cart Integration – Seamlessly integrates with the most popular shopping cart systems, including PayPal, ClickBank, and many more. Plus, WishList Member now integrates with Cydec and Infusion.
Multi-Level Access – Give your members access to multiple levels within your membership. For example, create a central download location with access granted to members of all levels.
---
WP Member Champ is a great mid-level solution. What I mean by that is it does not have all of the capabilities of Wishlist but it is in my opinion much easier to configure and best of all it integrates seamlessly with PayPal and Aweber (one of the email services I recommend below).
The other thing I really like about WP Member Champ is you'll have the ability to protect partial content which means that you can set it up so that non-members can see some of your great content but not all of it. This is perfect in that you can display only "teaser" content but save the real meat for paying members which gives the tire-kickers a real incentive join.
Yet another great feature with WP Member Champ is the ability to place the members login box anywhere on your site. This will immediately stop the customer service questions like: "Where do I login?"
One other super-savvy feature is the ability to build your list with a FREE membership site using WP Member Champ. Yep, never thought of using a membership site as a lead magnet, huh? Its actually a brilliant strategy and another thing this plugin will let you.
Now as I said WP Member Champ is a mid-level solution so there are some things it won't do. For example, there is no drip content, no multiple memberships levels and it only integrates with PayPal (which means you can only process your payments through PayPal). For many people however the features it does have are enough. My suggestion is you check out this video that my friend and colleague Jason Fladlien did to demo this plugin.
---
Shopping Cart Services
I have used Kick Start Cart – 1 Shopping cart for as long as I've been in business. They have been a good solution – I use them for my autoresponder, my product management, instant digital product delivery and they even support an in-house affiliate program. Recently they added another powerful tool called "one-click" up-sells that you can use to really turbo-charge your profits. Essentially it allows folks While they are good they certainly are not perfect. For example, you must pay if you want to telephone customer support and the in house affiliate program you set up is functional but clunky. On the plus side most of the training videos are done by friend and colleague Tom Antion who is a superlative marketer and really teaches how to get the most of this cart.
---
Now the other cart system I really like is Nanacast. I am not as of this writing using it myself but I am seriously evaluating this cart system and by the time you read this I may well have some or all of my products set up over there.
Why?
Because they have lifetime affiliate tracking by name and email (not just cookies) and JV partners like this system a bunch. Primarily, because they get proper credit which is a big worry if you do affiliate marketing. Consequently, many of the bigger players may be more willing to JV with you or promote your products if your affiliate program is set up through nanacast.
So if you are considering shopping carts I would certainly evaluate Nanacast and Kick Start Cart – 1 Shopping cart.
---
Autoresponder Services
If you are at all serious about marketing you will definitely need an autoresponder system. For many years, I solely used Kick Start Cart – 1 Shopping Cart for all my email marketing. But I later decided to not put all my eggs in one basket and to diversify my lists.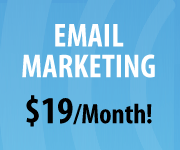 Consequently, I decided to start an Aweber account. I have been fairly pleased with Aweber and at only $19/mo to get started, I think that is a bargain.
Also, deliverability is really quite good as is tracking. One other feature I really like is the ability to add an attachment to your broadcast emails and to automatically post your emails to Facebook and Twitter if you so choose.
---
The other autoresponder system I use is iContact. It's great on the deliverability AND I like it because I can import names from my webinar registrants (you can check my webinar training here).